The following are the tests you can do while the Everest 600 or Everest Encore is in Diagnostic Mode (Mode 3). This switch is found on the back of the printer to the right of the USB cable. With the power unplugged from the printer, turn the white nob clockwise till you see the number 3 shown, see picture below.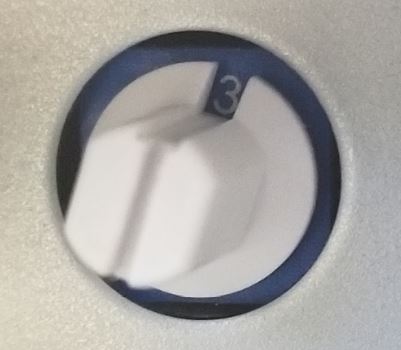 Now plug in the printer, after about 5 seconds you should have two lights lit on the front. The two lights are the green power light and the orange connectivity light.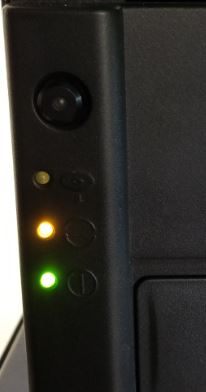 To use a tests described below press the button on the printer button that many times and hold on the final press. For example to open the printer tray, press the button 12 times and on the 12th press hold it down. Once you hear a noise from the printer you can release the button. The orange activity light on the printer will flash while the printer is doing the action requested. Once it done with the action, the light will stop flashing and go back to solid.
Once you are done running the test(s), pull the power plug from the back of the printer. Change the mode nob on the back of the printer back to mode 2, and then plug the power back into the printer. Then power cycle the entire machine including the autoloader portion.
| | |
| --- | --- |
| Test No. | Test Description |
| 1 | The platen cleaning mode |
| 2 | The re-transfer heat roller cleaning mode |
| 3 | Print Color Position Check Pattern and Printing Head Check Pattern |
| 4 | Print Full Dot Pattern |
| 5 | Print Gray Scale at a variable dot of 16 levels (Vertical) |
| 6 | Print Gray Scale at a variable dot of 32 levels (Horizontal) |
| 7 | Burn-in (Close and open the drawer, lower and raise the printing head, lower and raise the re-transfer heat roller for 1000 cycles) |
| 8 | Lower and raise the printing head |
| 9 | Advance the ribbon |
| 10 | Close the drawer |
| 11 | Clamp the DISC |
| 12 | Open the drawer |
| 13 | Advance and rewind the re-transfer sheet |
| 14 | Lower and raise the re-transfer sheet |
| 15 | Turn on and turn off the halogen lamp |
| 16 | Start and stop rotating the re-transfer heat roller |
| 17 | Turn on and turn off the Actuator |
| 18 | Turn on the cooling fan |
| 19 | The printing head position sensor |
| 20 | The ribbon sensor |
| 21 | The re-transfer heat roller position sensor |
| 22 | The drawer close sensor |
| 23 | The drawer open sensor |
| 24 | The thermometer for the printing head |
| 25 | The thermometer for the re-transfer heat roller |
| 26 | The thermometer for the environment temperature |
| 27 | The transfer position sensor for the surface of DISC |
| 28 | The printing position sensor for the re-transfer sheet |
| 29 | The tension sensor 1 for the re-transfer sheet |
| 30 | The tension sensor 2 for the re-transfer sheet |
| 31 | The cover open sensor |
| 32 | The release lever position sensor for the printing head |
| 33 | The release lever position sensor for the re-transfer heat roller |
| 34 | The DISC sensor |
| 35 | The DISC clamp sensor |
| 36 | The lock lever for locking frame position sensor |
| 37 | The re-transfer sheet motor encoder |
| 38 | The heat roller motor encoder |
| 39 | The drawer motor encoder |